"It is not the critic who counts: not the man who points out how the strong man stumbles or where the doer of deeds could have done better. The credit belongs to the man who is actually in the arena, whose face is marred by dust and sweat and blood, who strives valiantly, who errs and comes up short again and again, because there is no effort without error or shortcoming, but who knows the great enthusiasms, the great devotions, who spends himself for a worthy cause; who, at the best, knows, in the end, the triumph of high achievement, and who, at the worst, if he fails, at least he fails while daring greatly, so that his place shall never be with those cold and timid souls who knew neither victory nor defeat."

— Theodore Roosevelt, "Citizenship in a Republic" Speech at the Sorbonne, Paris, April 23, 1910
Brené Brown is a research professor at the University of Houston Graduate College of Social Work. She has spent the past ten years studying vulnerability, courage, authenticity, and shame. She spent the first five years of her decade-long study focusing on shame and empathy, and is now using that work to explore a concept that she calls Wholeheartedness. She poses the questions:
How do we learn to embrace our vulnerabilities and imperfections so that we can engage in our lives from a place of authenticity and worthiness? How do we cultivate the courage, compassion, and connection that we need to recognize that we are enough – that we are worthy of love, belonging, and joy?
Read the TED Blog's Q&A with Brené Brown >>
"Brené Brown is an absolute legend. This is groundbreaking – not in terms of peoples awareness of these subjects and what they mean… But in these messages enhanced communication made accessible to a wider audience on this level. I have a jumbled up jigsaw in front of me with pieces I've been putting together my whole life- and Brene Brown has just connected so many pieces. This makes so much sense on so many levels. Really awesome stuff. I will watch this a few times and recommend it to people!"
-jakesandersonaudio on YouTube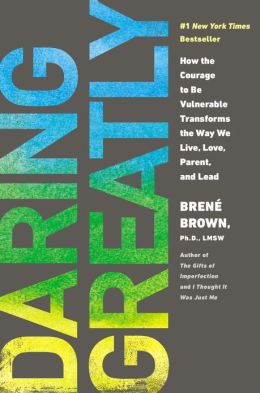 Daring Greatly: How the Courage to Be Vulnerable Transforms the Way We Live, Love, Parent, and Lead
Editorial Reviews

From Barnes & Noble
In film, television, and battle sagas, we crave stories of fearless superheroes, but the heroes we value most are those who grapple not only with their enemies, but with their own vulnerability. This welcome new book explains why honestly accepting our limitations can enhance every aspect of our lives.
Publishers Weekly
Brown (The Gifts of Imperfection) examines vulnerability and imperfection in her latest, which takes its title from Theodore Roosevelt's speech "Citizenship in a Republic." Brown, a research professor at the University of Houston Graduate College of Social Work, is the first to admit that vulnerability makes her uncomfortable, but posits that daring to fail is the only true way to be wholeheartedly engaged in any aspect of life. "Experiencing vulnerability isn't a choice—the only choice we have is how we're going to respond when we are confronted with uncertainty, risk and emotional disclosure," she says. Laying out a roadmap for change, the author includes chapters on eliminating blame and shame from work and education, and daring to be the adults we want our children to be. At the same time, she explores what drives people to feel vulnerable and how to address common coping mechanisms in what she calls the "Vulnerability Armory." But the core of her message is understanding the difference between guilt and shame, and developing "shame resistance." Brown's theories—complete with personal and not always flattering examples from her own life—will draw readers in and have them considering what steps they would dare to take if shame and fear were not present. Agent: Jo-Lynne Worley, Worley Shoemaker Literary Management. (Sept.)
Kirkus Reviews
Brown (Univ. of Houston Graduate College of Social Work; The Gifts of Imperfection: Let Go of Who You Think You're Supposed to Be and Embrace Who You Are, 2010, etc.) exposes and challenges some of the common myths surrounding vulnerability. After more than a decade of research and hundreds of interviews, the author presents her findings on the concepts of shame, weakness and vulnerability. Defining vulnerability "as exposure, uncertainty, and emotional risk," the author maintains that this feeling is the crux of most of our meaningful experiences. Ultimately, she writes, it is not a weakness; everyone is vulnerable, we all need support via friends and family. Trust and vulnerability go hand in hand. Brown believes it is essential to expose oneself to a wide range of feelings in order to combat shame, break down the walls of perfectionism and stop the act of disengagement that separates many from themselves and others. By accepting her directives, readers will be engaged, gain a sense of courage and learn how to create meaningful connections with their children or fellow workers. "Rather than sitting on the sidelines and hurling judgment and advice," she writes, "we must dare to show up and let ourselves be seen. This is vulnerability. This is daring greatly." When we choose to dare greatly, the rewards are vast: We feel more loved and are more loving, we feel worthy of that love, we choose our path and commit to it with daily practice, and we live with courage, engagement and a clear sense of purpose. A straightforward approach to revamping one's life from an expert on vulnerability.
Product Details
ISBN-13: 9781592407330
Publisher: Penguin Group (USA) Incorporated
Publication date: 9/11/2012
Pages: 256
Table of Contents
What it Means to Dare Greatly xii
Introduction: My Adventures in the Arena 4
Chapter 1 Scarcity: Looking Inside our Culture of "Never Enough" 18
Chapter 2 Debunking the Vulnerability Myths 32
Chapter 3 Understanding and Combating Shame 58
Chapter 4 The Vulnerability Armory 112
Chapter 5 Mind the Gap: Cultivating Change and Closing the Disengagement Divide 172
Chapter 6 Disruptive Engagement: Daring to Rehumanize Education and Work 184
Chapter 7 Wholehearted Parenting: Daring to be the Adults we Want Our Children to Be 214
Final Thoughts 247
Appendix-Trust in Emergence: Grounded Theory and My Research Process 251
Practicing Gratitude 261
Notes And References 265
Index 277
About the Author 289